When I got my first rice cooker, it was just a simple baby with a heat check. You would have to put rice and water in, turn it on, and once the temperature started going over 212°F (100°C), it switched itself to keep warm. 
Nothing fancy.
As I got older, I started thinking if there are any rice cookers with timers. The main reason was that I began to use different types of rice that required a new way of handling and cooking. 
Be sure there are rice cookers with timers, but you will most likely run into the same problems that I did. 
Issues of rice cookers with timers
Through the years, I have learned a lot. One of the most important things was that you could have a few machines with options to cook pretty much anything you can imagine, but with a small downside. 
They are all good enough at what they do. Good enough, but not stellar.
And I expect perfection every time I cook. I am putting my skills and time to the plate in every meal. My wife, kids, family, and friends are my critiques, and I want to please them as much as I can. 
So if there is a thing that can help me, that's great. But it has to be a machine that is perfect at the task. 
So the first issue that I have run into was the fact that in most cases and brands, you cannot get a specialized machine to do what you wish.
Most of the rice cookers with timers are combined with slow cookers, steamers, grills, pressure cookers, and a plethora of other extra functions in all-in-one machines. 
I am not saying they are not okay, but we are looking for THE rice cooker. The single machine that can cook rice as I imagine and envision it. 
So with this in mind, let's take a look at my choices in more detail.
The list is made from the least to most favorite one. 
(As the most of my lists, I do not include items with prices above 500 dollars, as they tend to be too expensive for the functions they provide.)
I know I have said that I don't like cookers that can do more things in an okay way. 
But the thing is that Hamilton Beach is the only US brand that is capable of providing you with something at least close to the rice-only cooker with a timer. 
It can fit in a nice sizeable batch of up to 10-Cups of uncooked rice. It has all the standards you are used to. Like semi non-stick pot (yes I say, semi non-stick, because it still creates a thin layer on the bottom, that takes about a minute of soaking to get rid of). Few different settings for white rice, quick rice, whole grain, hot cereals, and even a simple steaming. 
I would say that this one is best to be used by vegans or vegetarians, as it can cook rice or quinoa, and yes, rice cookers can cook quinoa, as you already know from this article. While at the same time, it steams the veggies in a steaming basket over the rice.
As for the cooking and steaming combo, it works fine, but from my experience, it seems that vegetables cook too much. They tend to be a bit too tender; they fall apart as you pull them out of the rice cooker. 
As it is a multi-purpose device, it can do a lot of things, but none of them to excellence. 
One thing that bothered me entirely a bit is the inner pan. It is round without any holder. So when you try to get it out of the base, you have to use heat-proof gloves or cloth. Manipulating it even with them is fiddly at best. You get used to it, but it is a feature that is sorely missing. 
It can delay the start for up to 15 hours. It auto switches into warming after the cook program finishes, where it can stay for days, but I would not recommend it. 
You can always put your rice into bags, freeze it and pull it out whenever you need it for anything. 
To the most crucial part, the timer. It not only has one, but you can set quite a few things on it from choosing the program to use to set the cooking time manually.
The right choice if you are cooking rice once every week or two and want to have an option to use it for steaming vegetables or making your favorite cereal. 
In terms of just the rice cooking, I would give it to the Hamilton Beach Rice & Hot Cereal Cooker 7 out of 10 stars, as it does the job well.
But if you are looking for perfection that will elevate your cooking to a new level or at least keep up with you or if you are cooking rice twice a week and more, you should consider the following options.
If you would want to have a perfect cup of rice, where would you go?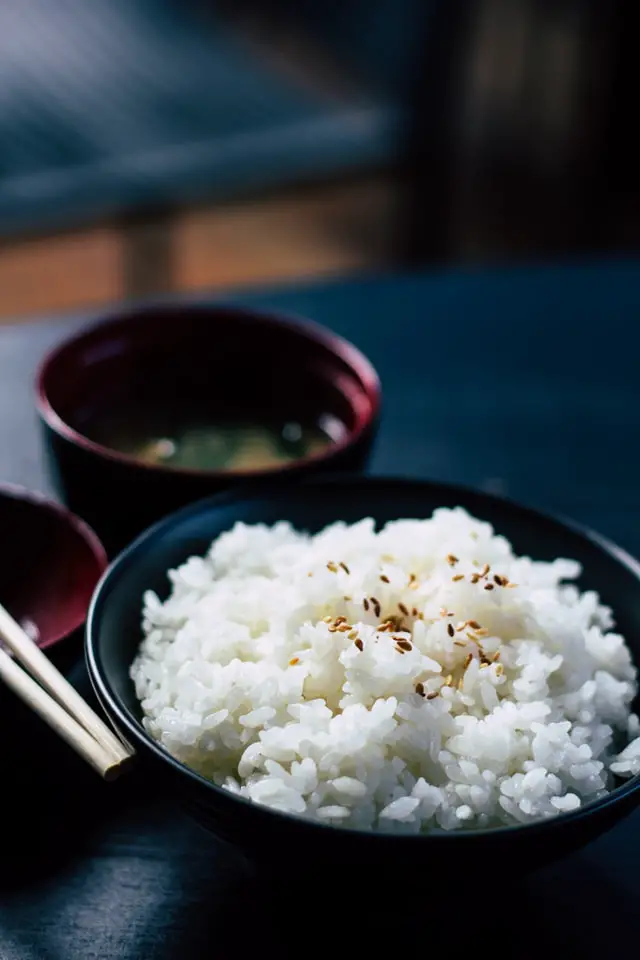 Japan, of course! 
Where else would you get the most awesome rice, than in a country that eats it so much? 
But the problem is that most of us cannot go to Japan whenever we need a cup. Therefore the Zojirushi company created its line of rice cookers. The taste of Japan is made in your kitchen. 
It is different in so many ways that I can hardly list them all here and not bore you to death. 
I will do the second-best thing and add here a short video showing this baby in close detail.
From a personal point of view, it may look like a toy, but it surely is not. Don't let its cheap-looking exterior put you off. This 7.6 cups large (1.8 liters) beast can more than keep up with you. 
If you are cooking rice at least twice a week, you can expect a quick return on your investment, as it provides you with one of the best-tasting rice that you can get. 
The reason for it is that the rice cooker is smart. I was impressed too. These days you can have not only a smartphone but also a smart-rice cooker. Cool right?
It is smart because it self-manages the temperature, moisture, amount of steam, and time if necessary. At the same time, it allows for quite a significant margin of failure. So if you are not super exact with your measurements, it auto-adjusts everything, so the rice comes out perfect every time. 
If you are thinking about seriously stepping up your rice cooking game, you should consider buying this as it can only improve your dishes. 
For me, the Zojirushi NS-ZCC18 10-Cup Neuro Fuzzy Rice Cooker is a beast that brings great-tasting rice to every kitchen. I am not afraid to give it 8 out of 10 stars.
But is there something even better than this? Something that can take your skill to the next level of cooking? Something that can almost cook the rice by itself?
I got the Zojirushi, an elegant-looking rice cooker (quick video below) from my wife on my last birthday. And I have to tell you that the previous couple of months I have been in chefs heaven. 
Apart from all the other functions the other Zojirushi has, it has an induction heating system, which allows the rice cooker to quickly adjust any settings that are needed to deliver the perfect rice to you. 
As it is a gift from my wife, I am slightly biased towards it. But I will still point out one feature that I liked more in the previous model. 
It comes without the side handles. So it is as fiddly as the first entry on my list. 
But the superior cooking and super easy cleanup – you take just a paper towel, run it around the pot once, and it is clean – puts it to the top of my list of rice cookers with timers. 
The thing that might put you off is the price. But consider that you are buying a Ferrari amongst rice cookers. As I am writing this piece, I am not aware of anything better. 
So if you want to make yourself happy or want to give a special gift to someone you love, I do recommend getting the Zojirushi NP-HCC10XH Induction Heating System Rice Cooker.
It takes your cooking to another level, while you focus on something else. In my book, it deserves 9 out of 10 stars. And I am stripping a bit only because of the missing side handles. Other than that, there is nothing to comment on negatively. 
Conclusion
It is just up to you for which one you decide, but I do believe that all of these will serve you well in your cooking endeavors. 
I wish you a happy and relaxed cooking until next time.